InTouch Fundamentals of Application Development
COURSE DETAILS
InTouch HMI 9.5 Fundamentals of Application Development Course is a 5-day instructor led class designed to teach all of the basic functionality of the Wonderware visualization module.
The purpose of this course is to give students the InTouch knowledge necessary to develop Manufacturing Management Information (HMI) systems for their specific plant floor environments using the following features/functionality.
OBJECTIVE
Upon completion of this course, students will be able to develop an HMI using basic InTouch
elements for their plant floor environment.
This Course will introduce and discuss the new InTouch 9.5 features including:
· Improved Operator Interactions (Runtime, Configurable Button Font)
· Static and Dynamic Tool tips
· Zoom and Pan during Configuration
· SmartSymbol Enhancements
· Animation Enhancements
· Alarm Enhancements
AUDIENCE
Plant floor operators and managers, system administrators, system integrators and other individuals who need to use InTouch in their manufacturing processes.
PREREQUISITES
The prerequisites for this course are:
· At least 8 hours of hands-on experience with InTouch
· Knowledge of Microsoft Windows
· Manufacturing industry experience
COURSE OUTLINE
Module 1 – Introduction
Module 2 – Development Environment
Module 3 – Tagname Dictionary
Module 4 – Animation Links
Module 5 – InTouch QuickScripts
Module 6 – Alarms
Module 7 – Real-time and Historical Trending
Module 8 – I/O Communication
Module 9 – Advanced Tag Functionality
Module 10 – Security
Module 11 – Application Backup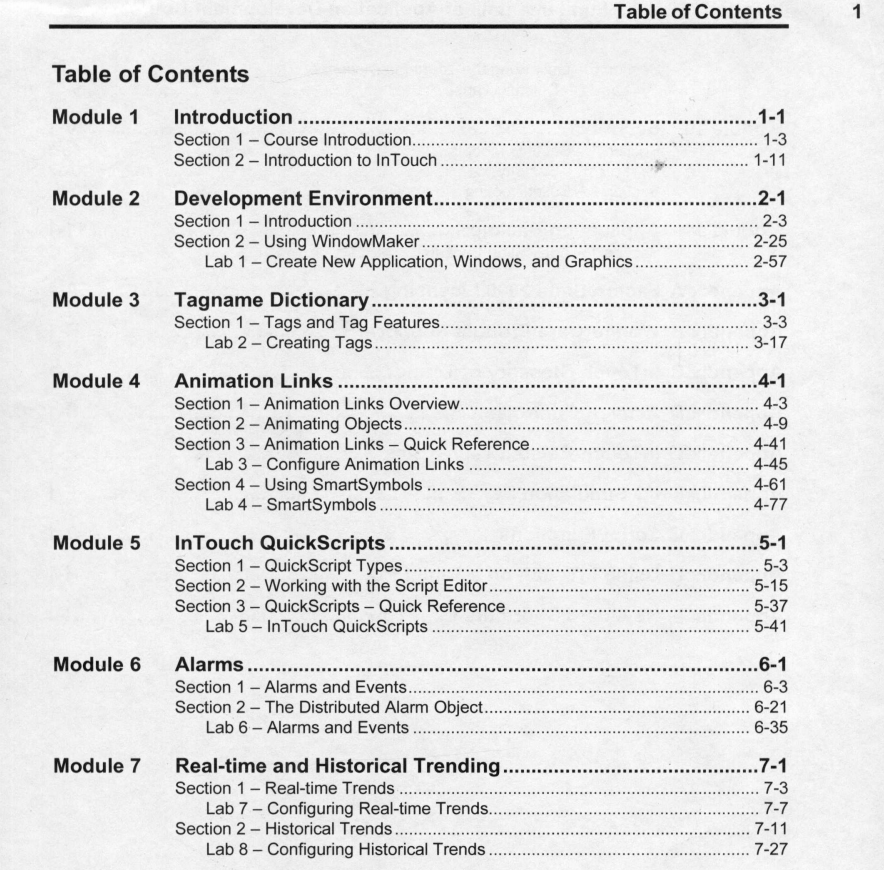 Intouch Version: 9.5
Pages: 610
Size: 11MB
Format: PDF